A Complete Guide to
Kasol
In this post, we have tried to include as many facts and information about Kasol as possible. Hope you'll enjoy reading!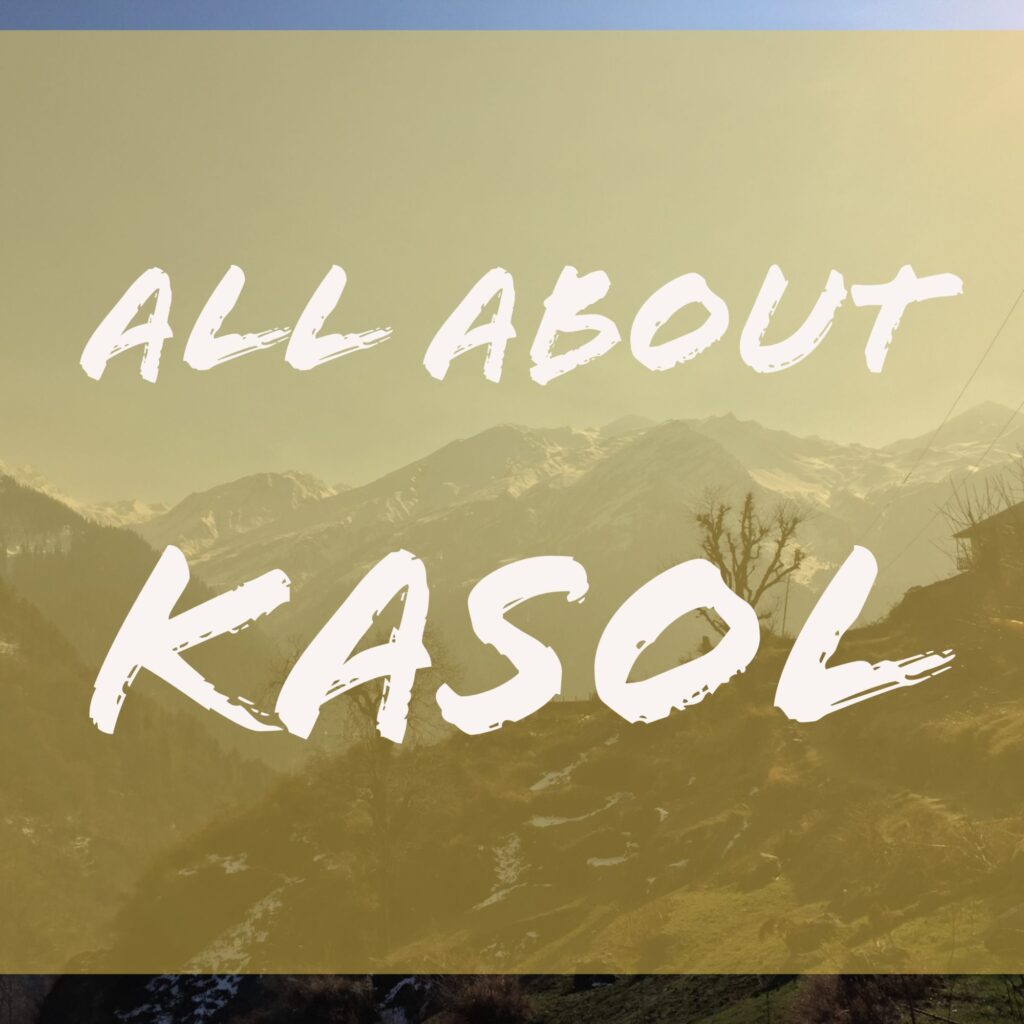 Kasol  is a small town on the banks of Parvati River in Kullu district of Himachal Pradesh. Kasol is situated at roughly 35 kms from Bhuntar on the Manikaran road. It is famous as one of the coolest tourist destination among young travellers, backpackers, hikers, trekkers, nature and photography lovers. Famous for the trance parties held here and surrounding villages, it seems like a completely different world in itself when compared to other tourist places in Himachal Pradesh. This beautiful town has a very unique blend of Israeli and Himachali culture. There are a lot of Israelis living permanently in Kasol harmoniously with the local people. Because of this it is also known as "Mini Israel". Thus, you can find a lot of restaurants offering Israeli food, and some even have Hebrew names.
Best time to visit Kasol.
The Summer season is probably the best time to visit Kasol, because of all the flora and fauna of the valley. Also, most of the trance parties are held during summer season. However, if you are want to stay away from the crowds and want a peaceful holiday winters would be perfect for you. This town is reachable throughout the year, except if there is heavy snowfall in the area.
Who should go to Kasol?
Kasol is a perfect holiday destinations for groups of friends, couples and anyone who is young at heart and loves peace. Photography lovers will find Kasol a perfect spot for nature Photography. And, the nearby town of Manikaran is a famous destination for family trips. Also, trekking and mountain lovers will definitely fall in love with Kasol, as it acts as a base camp for a variety of treks. Thus, this place offers something to almost every type of traveller.
How to reach Kasol?
The nearest airport to Kasol is Bhuntar Airport, which is 35 Kms from Kasol. From Bhuntar, one can either board a Bus towards Manikaran and get off at Kasol which is 5 kms before Manikaran. Another option is to take a Taxi from Bhuntar.
The nearest Railway Station to Kasol is Joginder Nagar railway station, which is 144 kms away.
The most recommended way to reach Kasol from Delhi or Chandigarh would be to go by road in taxi or a personal vehicle. This way you would enjoy the complete sightseeing on the way, including the Aut Tunnel which is approx 2.8 kms long.
 Things to know for the Kasol Trip:
There is only one ATM in Kasol, which is mostly out of cash. Apart from Kasol there is one ATM in Manikaran and one in Jari also. However, it is advisable to withdraw all the cash you might need in Bhuntar itself.
The budget stay options provides a better connection to nature than Luxury Hotels in Kasol. No doubt the few available Luxury Hotels in Kasol have good rooms, but there are some small properties that are way closer to nature.
Try not to possess any illegal drugs, weed or hash as that might get you in trouble with the authorities.
Please do not litter and help keeping the Himalayas clean.
Respect the loving locals and have fun!
Things to do in Kasol:
There are many beautiful places and treks around Kasol worth visiting. However, if you just want to spend your Holiday in Kasol without going any further, this town has a lot to offer:
Try Israeli food in Kasol:

There are a lot of restaurants/Café in Kasol like the Jim morrison café, Stone garden Café, Evergreen Café, Moon Dance Café, Mama Café and Budha Café just to name a few, where you will find a variety of food options.
Trance party in Kasol:

If you are a trance music lover then you will love Kasol. Almost every café, restaurant in Kasol play continuous trance music. In addition, Kasol hosts undoubtedly the best trance parties in northern India. If you are a party lover, attending a trance party in Kasol should be on your bucketlist.
Shopping:

For all the shopaholics Kasol presents a little different experience than the rest of Himachal. The local market is full of winter clothing having a hippy flavour.
Visit Manikaran Sahib Gurudwara and enjoy a refreshing bath in the Hot Water Springs:

Manikaran is just 5 Kms away from Kasol. One can board a bus from Kasol to Manikaran or take a cab/taxi from Kasol market. Also, there is a good parking available at Manikaran, if you are in your personal vehicle.
A Visit to Malana Village:

A visit to Malana is a must if you want to experience multiculturalism at it's best in Himachal. Titled as the "World's Oldest Democracy, Malana is the home to the descendants of "Alexander The Great's" Army (as per the locals).
Chalal Trek Trail: 

Just 30 Minutes walk from Kasol, Chalal is a beautiful village famous for the trance parties and serene nature. While in Kasol take a walk to Chalal and enjoy a cup of tea there.
Visit the other surrounding villages:

You can visit the surrounding villages like Rashol, Tosh, Kalga and many others where you will be welcomed with great hospitality by the sweet local people. A great way to understand a culture is to experience it.
Relax on the Parvati riverbank:

A cup of tea, a bowl of maggi, a book in hand and the gushing sound of the Parvati river sound like a perfect holiday in the mountains. While in Kasol you can easily sit near the riverbank and enjoy the beauty of Himalayas.
Places to visit near Kasol:
Manikaran Sahib Gurudwara

Grahan Village

Kheerganga trek

Tosh

Kalga

Pulga

Rashol

Chalal

Malana

Jari
Top places to trek near Kasol
Pin Parvati Pass Trek: Kasol can be treated as a base camp for this trek. This is a long trek that would take approximately 10-12 days to complete. Therefore, it should only be done with proper preparation and guidance.
Kheerganga trek: This is the most famous trek in the Parvati Valley. It is an easy trek and it takes 3-4 hours to reach Kheerganga once you start trekking from Barshaini Village. One can reach the starting point Barshaini by taking a bus or car from Kasol.
Malana Trek: Malana also known as the oldest democracy in the world is a short trek of about 0.5 -1 hour from the starting point of the trek. The starting point is 16 kms from Jari and can be reached by a private car or rented cab. Also there are other longer trekking routes to Malana for trekking enthusiasts.
Grahan Village Trek: Trek to Grahan village starts from Kasol and takes around 3-4 hours to complete. Also, there is no road to Grahan and the only way to reach there is trekking trail through a beautiful jungle.
Tosh Village Trek: Tosh village trek is approx 5 Kms from Barshaini and it is situated near the tosh river. It is a easy trek and this village hosts nice views of the valley.
Mantalai Lake Trek: Situated at the height of 4100m, this is a relatively difficult trek. The Mantalai lake takes about 5 – 7 Days to complete and thus require trekking with proper gear and food arrangements.
Accommodation Options in Kasol
Depending on your budget, Kasol offers the following accommodation options:
Camps

Cottages

Home stays

Budget Hotels

Deluxe Hotels
Many of the small campsites and hotels in Kasol are closed in the winters when there are fewer crowds. However, there are still many stay options available. Feel free to contact us for any accommodation options, trekking or a complete Kasol tour package. Even if you just need information, just drop an email or use the chat box on the bottom right of the screen.
Detailed information about each of the above treks would be soon updated with links. Please bookmark us">bookmark us or connect with us on our Official Facebook page to stay connected.
If you liked this post, feel free to share our link!  Keep Exploring the Himalayas!!
Read our other Blog Posts and Itineraries
Giriganga - Kuppar Peak (Kuppar Bugyal) Camping Trail 2N/3D The Kuppar …